The Digital Miscellanies Index is based at the Bodleian Centre for the Study of the Book, and the University of Oxford Faculty of English. Details of the team of researchers and musicians involved in the project can be found on this page.

Professor Abigail Williams
Principal Investigator
Abigail Williams is Lord White Fellow and Tutor in English at St Peter's College, Oxford, and Professor of Eighteenth-Century Literature. She is the author of Poetry and the Creation of a Whig Literary Culture (OUP, hardback, 2005, paperback, 2009), and is the editor of the Cambridge University Press edition of Jonathan Swift's Journal to Stella. She is particularly interested in the role of miscellanies in domestic reading culture, and in miscellanies as a form of reception history.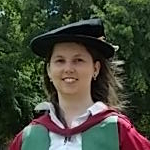 Dr Carly Watson
Postdoctoral Research Assistant
Carly received her PhD from the University of Birmingham in 2014; her thesis reconstructed the library of an eighteenth-century gentleman. Previously she read English as an undergraduate at Christ Church, Oxford, and as a graduate at Balliol, where she was awarded the Balliol-Bodley Fellowship in 2010. She has published articles on poetry and private theatricals in eighteenth- and early nineteenth-century manuscripts, and she is in the early stages of planning a monograph on miscellanies and eighteenth-century literary culture.
ALVA
ALVA is a voice and fiddle duo made up of singer Vivien Ellis and fiddle-player Giles Lewin. Their work explores the links between early European vocal repertoire and surviving folksong traditions. The duo have completed a successful Early Music Network tour and performed all over Britain and in the USA. Their concerts have featured on BBC4, BBC Radio 3's The Early Music Show and Late Junction. They have released 3 CDs with Beautiful Jo Records: Love Burns in Me, The Bells of Paradise and The Dawn Songs.

Giles Lewin
Musician
Giles Lewin specialises in the traditional music of Europe and the Middle East. He has always preferred informal to formal music making, learning most of his Irish music in the pub, and with the band Afterhours. His interest in the Arab influences in medieval music led him to Cairo, where he studied Arabic violin with Ashraf al Sarki. Giles is a founder member of the medieval ensemble The Dufay Collective, traditional group The Carnival Band, and the award- winning folk band Bellowhead.

Vivien Ellis
Musician
Vivien Ellis performs early music with The Dufay Collective and international ensemble Sinfonye. She has toured throughout the UK and Europe, and has made several tours of North and South America, Canada and Australia. She has made numerous recordings as a soloist, and has featured in many radio broadcasts, TV soundtracks and theatre performances including work with the RSC. She is a community musician for The Spitalfields Festival in the London Borough of Tower Hamlets, runs voice workshops and teaches at Dartington Music Summer School.